Nurkovic's key role in Safranko joining Sundowns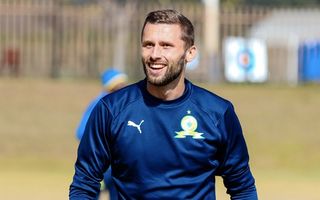 (Image credit: Mamelodi Sundowns)
The agent of Samir Nurkovic, Dajan Šimac, has revealed how the Kaizer Chiefs star played an influential role in the Pavol Safranko joining Mamelodi Sundowns adding that Slovak's move wasn't cheap.
Nurkovic has lit up the PSL since his arrival in the 2019/20 season as he came within inches of firing Chiefs to the league title on the final day of his debut season at the club.
After watching the 29-year-old Nurkovic thrive in South Africa, Sundowns have tried to replicate the move by brining in Safranko hoping a similar impact.
Speaking to the Sowetan, Šimac noted that the the 26-year-old Safranko, spoke to the Serbian before deciding to move to South Africa.
"First of all, Safranko wasn't cheap [various reports indicated Sundowns paid around R12m for the Slovak]. They [Nurkovic and Safranko] had a chat. Safranko was impressed when he saw everything about SA,'' Šimac told Sowetan from Europe.
"He [Safranko] first read about Samir on the internet and they got close then Samir encouraged him to come because SA is a good country and the PSL is a good league. Seeing Samir doing well for Chiefs also made it easier for Pavol to see that he can also come and see how things go for him."
"I am working on building my network in SA. I am close to bringing one more European to the SA league in the current window,'' said Šimac.
Sundowns co-coach Rulani Mokwena has since disclosed that Safranko has been studying up on the Brazilians style of play via videos and should be ready to hit the ground running.
"What also helps is that he [Safranko] has brought his family across. His adaptation period will also be a little bit fast-tracked because he's got a little bit of stability with the wife being here,'' Mokwena said.
"When we signed him four months ago, he already accepted that he's got a responsibility to understand the way we play, he has been watching the games and discussing with us, and that shows eagerness to be part of the team.''
Quizzes, features and footballing fun
Get the best features, fun and footballing frolics straight to your inbox every week.
Thank you for signing up to Four Four Two. You will receive a verification email shortly.
There was a problem. Please refresh the page and try again.