The big interview: Dani Alves – "I don't hide my admiration for Guardiola and will to play in the Premier League"
By Felipe Rocha published
So why did he snub Pep and Man City? How did Barça keep battering Arsenal? Can he still milk a cow? Your questions answered in December 2017 ...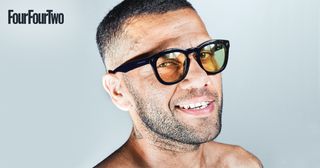 Since this interview was originally published, Alves has won Ligue 1, a Coupe de la Ligue and the Coupe de France. Because that's just what he does.
Now read on to enjoy his wide-ranging career reflective with FourFourTwo from our December 2017 issue...
Paris Saint-Germain's 2-1 victory over Monaco in July 2017's French Super Cup may not have made many headlines, but to one Brazilian in particular, it proved a very significant moment.
"There are thousands and thousands of football players all around the world," Dani Alves tells FourFourTwo during our visit to his new home city, "but this little lad from Juazeiro, in the countryside of Bahia, is able to say he's the one to have won more titles than any other – this is something unimaginable."
That trophy was Alves's 34th top prize as a professional, making him the most decorated player currently active. Now he is ready to answer your questions on a career that has seen him go from the farmyard through to the hall of fame ...
You worked on a farm when you were a youngster – what kind of tasks did you have to do? Can you milk a cow?
Daniel Tayasco, Peru
I used to do lots of jobs on the farm and those tasks are like riding a bike – you never forget how to do it. I'd help with whatever needed to be done: milking the cows, weeding. That would actually be the job I would recommend a child not to do because you'll be dealing with chemicals and it's dangerous. However, when your family are in a really difficult situation, and when you see your father working so hard for everyone, you have got to give him a hand, no matter what.
Your fashion style is unique – where do you get the inspiration for the kind of colourful suit that you sported at the Best FIFA Football Awards in 2017?
Junior Leoes, via Facebook
My inspiration just comes from a desire not to look the same as everybody else. When I first got interested in fashion, it was because I wanted to wear different things. I didn't want to appear similar.
Your instinct is always to get forward, so did you like to operate as a winger before eventually moving to full-back?
Doug Powell, via Facebook
Actually, I used to be a forward. When my father started the project of helping me become a football player, his desire was to see me in attack, scoring goals. I was the No. 9, or sometimes 10 or 11. Then, when I went to a football school, everyone else wanted to be a forward. You can't have a team made up only of forwards. I guess maybe because of my height, speed or playing style, I was able to adapt to other positions quite easily. Down the years, I've played in pretty much every position apart from keeper.
Who were your heroes growing up? As a fellow attacking full-back, did you want to end up emulating Cafu?
Marcos Sousa Santos, via Twitter
My football idol when I was growing up was my father. He used to love football so much. When I started to understand his passion, I entered into the football world and learned to admire the great players. And of course, Cafu was always an inspiration because of his amazing history and achievements with Brazil.
Do you remember playing against and defeating Andres Iniesta's Spain in the 2003 World Youth Championship Final with Brazil? Did you ever remind him of this when you were at Barça?
Carlos Allende, via Facebook
Well, it was inevitable that I would make a few jokes! [Laughs] It was something special and a unique experience for all of us. We were youngsters, dreaming of being successful professional footballers. I was lucky enough to already be playing in Europe during that time. But I can say that championship still represents a big turning point for my career. I had been on loan with Sevilla, but there had been doubts about whether I should remain and occupy one of the spots for foreign players.
You played alongside a young Sergio Ramos at Sevilla. Could you tell that he would become a great defender? And was it strange to end up being a direct rival of his during Clasicos?
Marta Rivero, via Facebook
Yes, of course. Sergio already had great qualities even back then. He wanted to play as a full-back but we could all see his potential to be a good centre-back – a position where he could have more success. Fortunately for Sergio – not to mention for Spain and Real Madrid as well – he went on to become a fantastic central defender who is admired by the whole world.
I don't think he would have achieved the same status at right-back. Obviously he could also play there very well – and did it many times, including for Spain – but he soon realised that he could become one of the world's best in another position. It was tough to have him as a rival, but that's what happens when you are at Madrid or Barcelona – it's kind of like a clause in your contract when you sign for one of them. But the rivalry shouldn't go beyond the pitch.
CLUBS
2001-03 Bahia
2002-03 Sevilla (loan)
2003-08 Sevilla
2008-16 Barcelona
2016-17 Juventus
2017- Paris Saint-Germain
How close did you actually come to signing for Liverpool back in 2006? Were you annoyed when the move to England eventually fell through?
John Stirzaker, via Facebook
Mate, I pretty much had an agreement with Liverpool. But for whatever reason it didn't happen at the last moment and I really don't know why, as I wasn't the one conducting the negotiations. I had other people representing me back then. I'm not sure what the reasons were for the move not going through, although something similar happened later in my career with Chelsea and Real Madrid.
Of course, it all worked out happily for the Cules [Barcelona supporters] in the end, and also for me as I was able to write an amazing story at the Camp Nou instead.
You were reportedly in dispute with former Sevilla president José Maria del Nido because you wanted to join Chelsea. Is it true you chose to stay out of loyalty after the tragic death of your team-mate Antonio Puerta?
Luke Jordan, via Facebook
I heard Sevilla's president saying some nonsense things, like I thought that my situation was far more important than what had happened with Antonio and didn't care. I was also suffering in that moment, a lot more than them for sure. Antonio was a team-mate and a friend – a guy who used to bring so much joy to our dressing room. So it was a difficult time for me, but I had already wanted to leave before that tragedy happened.
Then when my discussions with Chelsea did not go ahead as expected, I decided not to push anything in that moment, out of respect for Puerta. But this was my decision, not anybody else's. I had already decided that my time at Sevilla was coming to an end and was looking for some fresh challenges. I wanted to win things that I unfortunately couldn't win if I stayed at Sevilla. We came close there, but I don't like to be just close.
You signed for Barça a day after Pep Guardiola officially took over as the coach. Did he bring you to the club?
Miguel Caballero, via Twitter
I suppose so, although I have no access to that information about whether Pep had requested my signing. But around six months before the transfer window opened I had been told of Barcelona's interest, and I said that I'd like to play for them because of the fine history of Brazilians there, the greatness of the club and the style of football.
So it was a very successful union and I will always be grateful to Pep, Txiki [Begiristain] and Joan Laporta, as they gave me the opportunity to become a big star in the game.
How difficult was it to play in that 2009 Champions League semi with Chelsea knowing you'd be banned from the final in Rome? Iniesta hit a late stunner to settle it – do you think Barça were lucky that night?
Victor Simmons, via Facebook
Well, in a situation like that there's no time to think about what's happening next – you're only focusing on your game. We all knew the match was going in a difficult direction but we never lost the belief in our ability to turn the game around. Not only because of the quality of players we had at that time, but also because of the way that campaign had unfolded.
So I don't think we were lucky, no – I believe that we deserved to go through to the final. It was proof that anything really can happen in football if you all do your part. We all did our part and got the reward of going to Rome. Just being able to play in a Champions League final would have been the highest point of my career at that point but, well, I knew football had something better in store for me.
I had the chance to play in a final at Wembley two years later, and there isn't anything more glorious than that. Anyway, I still celebrated the final I missed as if I had played every single minute of it. I kind of did, even if I wasn't on the pitch. My spirit and soul were there with all of my team-mates that night – I'm sure I did my part to contribute to that success.
COUNTRY
2006 - Brazil (104 caps, 7 goals)
What was it like being a part of the great side that beat Man United at Wembley to win the 2011 Champions League Final, and was that the best Barça team during your time there?
Carmen Guzman, via Facebook
Yes, that's for sure. Talking to several football experts, they haven't seen another team as incredible as that Barcelona. These are people who've been following the game for a really long time and they say they've never seen such a thing. We represented the definition of a collective game. We ate, drank and breathed football, and so moments like us winning the Champions League were rewards for all of our efforts.
When you were at Barça, which English club did you like coming up against the least in Europe?
Ruby Davis, via Facebook
[Smiles] Well, we definitely liked to face Arsenal. They had a similar football style to ours, and this sometimes helped to facilitate our way of playing. We were drawn against them several times [in 2009/10, 2010/11 and 2015/16] with a positive outcome. They were a team we dominated and had a control over. Every time we faced Arsenal in the Champions League, we'd have a good result or good performance.
Were you surprised when Guardiola left Barcelona and moved to Bayern Munich? He said he couldn't motivate the players anymore – was he right?
Daniel Bloxham, via Twitter
That's what we heard afterwards. Pep absolutely lives football and at some point this will create a strain. He is very intelligent and knows his limits. But in my opinion both Guardiola, and later Luis Enrique, shouldn't have announced their departures from the club so far in advance. All it does is create uncertainty in the squad as the coach is there, but he isn't, you know? It takes away a little bit of his credibility. You can sometimes see it in the results, too.
The players are used to being under pressure all of the time – I remember sending a message to [Brazil team-mate] Paulinho saying 'pressure is adrenaline', and when they haven't got adrenaline – that pressure – they might relax. It's unavoidable after winning pretty much every competition.
You offered to give part of your liver to Barça team-mate Eric Abidal – an incredible gesture.How close are you to him and how badly did you want to help when you learned of his illness?
Bobby Lewis, Shrewsbury
Now that is a story I have never properly told anyone and I'm afraid I won't do it here, either. He's the owner of this story, so he's the one entitled to share how it happened. I can only say that Eric is like a brother to me. Therefore I could never accept seeing his life come to an end so soon without trying to help. I didn't do anything just so people would think I'm a good or kind person – I did it because I love him and all his family very much.
Which Clasico against Real Madrid would you say was the most iconic during your Barça career, and why?
Nancy Roberts, New York
I would pick the 5-0 victory at home [in November 2010]. That was incredible – our strength and power weakened the club's biggest rival in football. We were teaching footballing lessons back then. It was remarkable. That was definitely the best win for us as a group. If I think personally, I'd go for the game in which I scored [in January 2012]. That was the most beautiful goal of my career. It was also at home, a 2-2 draw. I was f**king lucky to pick out the right angle!
Do you think you got your message across when you ate that banana at Villarreal in April 2014? Is football doing enough to help tackle racism?
Felipe Gomes, via Twitter
To be honest, I didn't do that to send out any message. I didn't think it had the power to erase or even decrease racism in football, as racist people won't ever change their mindset. Nowadays, I think people sometimes just do things because they want to look cool, and not for genuine reasons.
Of course, if I had the power to change the world, I'd do it, but as I can't change the world I try to do my bit. I try to help people realise they're doing something that's not cool. It's old-fashioned. Many great athletes are black. Things are improving but some people are ignorant. They should know we're all equal, but people can be cruel.
You won the Double at Juventus in 2016/17 and got to another Champions League fina. Was that defence one of the best you've ever been part of?
Paul Baker, via Twitter
No, the best defence that I've played in, without any doubt, was at Barça – Pep's Barça. That was the team I felt the most comfortable in. Guardiola convinced us the best defence was having the ball. If we are in possession, then nobody can attack us. When we lost it, we were far away from our goal.
But, yes, no doubt Juventus had a great defence. This isn't exclusively because of their many great defenders. It's because they defend as a group. People will sometimes say that Juve have an incredible defence. That's because every player is working so hard for the team. It's a collective sport, and if you leave your defenders alone with no help, they won't be able to defend.
At Juventus they get every player involved with defending – perhaps something not every footballer enjoys. There is a very strong philosophy at the club, and that's why they have a defence that has become so respected in European football over the years. But in my opinion, Pep's Barcelona was more fun.
Why did you choose to sign for Paris Saint-Germain over a Premier League club? Did you have any direct contact with Manchester City, and how mad was Pep after the deal fell through?
Michael Edwards, via Twitter
Well, it was a combination of quite a few factors. I have many friends at PSG, my partner had lived in Paris and she adores the city, and the club has huge ambition to evolve and get bigger – so it was that combination. Sure, I was hypnotised by the idea of working with Pep Guardiola once more – I knew what he'd given me and could give again. I was hypnotised by it and not looking around me at the other options.
I'd already taken the decision to join Juventus without looking around first and it kind of harmed some people close to me. It wasn't very easy to find a flight from Turin to see my kids in Barcelona. For my partner it was also harder to find work – there were not as many job opportunities for her in Turin. So there were lots of things to consider, and they drove me to PSG. As I said, for sure I was hypnotised by working with Pep again – he's well aware of my huge admiration for him.
For me, Guardiola represents a turning point in my career and he was the main reason, above all others, that I was considering going to play for Manchester City. Then I started thinking that I shouldn't be so selfish and take a decision without considering my loved ones. I couldn't repeat what I did when I went to Juventus.
In the end, there was an opportunity to join some very good friends at PSG, in an incredible city and at a club that has great potential. I know I can help to add some positive things to this club that go beyond football. Unfortunately or fortunately, it made more sense for me to pick Paris over Manchester on this occasion, but I don't hide my admiration for Guardiola and my will to play in the Premier League in the future.
Do you still think you will get a move to England before your career ends?
Leon Ferguson, via Facebook
I still have this ambition, yes, but I don't know if it will happen now. I think there are plenty of things to do here first with PSG. I want to keep winning – not just playing, but winning – until I'm 40 years old. After that, I want to stay involved in football until I'm past 50.
I'll keep living the game and loving the profession. I've already got some plans to move across into music as well. I adore music. I grew up around music and have a musician in me. I have a production company in Brazil with some friends so I want to do serious things in this area; create things for people to enjoy. But for now I'm still focused on football. I have plenty more to do in the game before I finally retire.
Luiz Felipe Scolari removed you from the Brazil line-up during the knockout stage of the 2014 World Cup in your homeland. Do you resent him for it?
P. Franco, via Twitter
It's hard to be on the substitutes' bench because it makes you almost impotent, and I'm not an impotent person. I didn't like it because I knew I couldn't help the team from the bench. But I don't hold any negative feelings about it – I believe God makes things happen for a reason.
Which right-backs/right wing-backs do you admire today? Are there any in English football that impress you?
Rob Woods, via Twitter
I like [Hector] Bellerin at Arsenal very much – he's very dedicated. I also like Dani Carvajal at Real Madrid and have a great affection for Rafinha at Bayern. When Rafinha is playing, I try to study him sometimes. He's admirable because he has quality, he's very intelligent and he doesn't lose the ball... ever! I'd love to know how you play a game without losing possession. He has such balance and his pass completion mark must be over 90 for sure – an incredible achievement with great concentration.
You won your 100th cap for Brazil in a 2018 World Cup qualifier with Peru. How big an honour was it and which of the 100 matches is your favourite?
Rodrigo Azevedo Cardoso, via Facebook
For me, every single match I played for the Seleção – no matter if it's a friendly or a final – is so special. Whenever you wear that shirt you get a unique feeling. You have an overwhelming excitement. It's like I'm thinking: 'Here I am playing for the national team – f**k!'
Everyone's looking at me and my father's up there in the stands or watching on from home. That feeling is priceless – all the money in the world can't buy that sensation.
This interview originally appeared in the December 2017 issue of FourFourTwo. Subscribe! (opens in new tab)
New features you'd love on FourFourTwo
Quizzes, features and footballing fun
Get the best features, fun and footballing frolics straight to your inbox every week.
Thank you for signing up to Four Four Two. You will receive a verification email shortly.
There was a problem. Please refresh the page and try again.